NISMED's Lesson Study Program bags prestigious Gawad Tsanselor
The Lesson Study Program (LSP) of NISMED received the prestigious Gawad Tsanselor Para sa Natatanging Programang Pang-Ekstensiyon on 21 June 2019 at the Institute of Biology, UP Diliman. During the awarding ceremony, the Gawad Tsanselor Search Committee, chaired by Vice Chancellor Fidel Nemenzo, recognized the substantive and significant contributions of the LSP in creating opportunities for Filipino teachers to acquire knowledge and develop capabilities in science and mathematics teaching by introducing teachers to a new professional learning model where these acquisition and development are embedded and sustained within a community of practice.
The direct beneficiaries of the LSP are the classroom teachers from elementary and secondary schools in different parts of the Philippines. Since its formal launching in 2006 through the NISMED's Collaborative Lesson Research and Development (CLRD) Project, 57 schools and universities and 557 teachers have benefited from this program. In the last three years, a total of 48 schools and 193 teachers benefited from the program. These schools are located in different regions of the Philippines – National Capital Region, Regions I, II, III, V, VI, and X.
The LSP exposed classroom teachers to science and mathematics teaching that are advocated by NISMED (Teaching science through inquiry and Teaching mathematics through problem solving) before teachers are initiated to lesson study. Lesson study (LS) is a classroom-based professional learning activity of teachers collaborating to design a lesson to address a particular long-term goal for their learners. The lesson is called a research lesson because it involves systematic planning, implementation, and analysis not only in relation to student learning but also in relation to their own learning as teachers. Depending on the result of the first implementation and the ensuing discussion, another teacher in the team may re-implement the lesson in her class.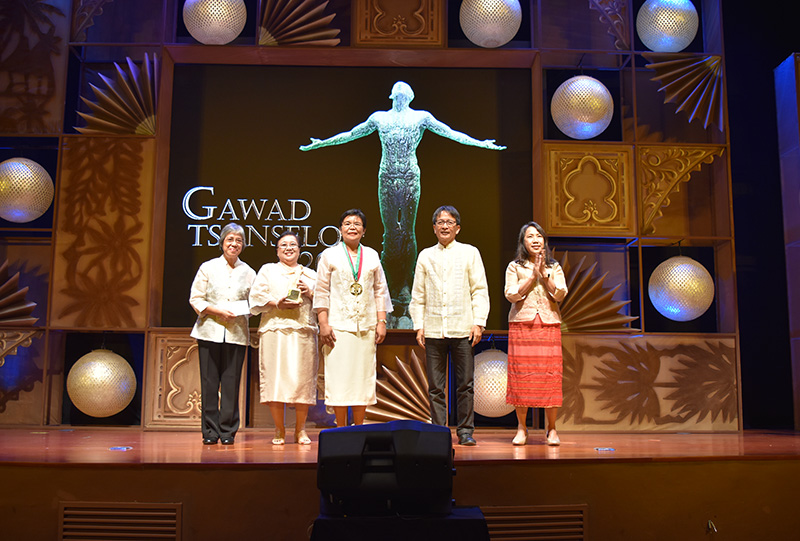 The Gawad Tsanselor medallion, trophy, and cash prize for the LSP were received by Dr. Erlina Ronda (3rd from left), NISMED Deputy Director for Research and Extension, Director Aida Yap (2nd from left), and former Director Soledad Ulep (extreme left) from the Chancellor Michael Tan (2nd from right).
The LSP contributed also to the research mandate of the University through the use of data collected by NISMED staff to produce and publish research outputs. To date, the publications produced by NISMED through the LSP include three books (Lesson Study Book 1, Lesson Study Book 2, and Lesson Study Guidebook), nine articles in international refereed journals, and 60 conference papers. These publications documented the actual experiences of NISMED staff and collaborating teachers in the implementation of lesson study, the challenges in teaching science and mathematics that were addressed through lesson study, and the processes and stages of implementing lessons in schools.
KaSaMa Teachers Online Community wins UP Diliman Parangal
KaSaMa Teachers online community, an extension program initiated by UP NISMED, won the first UP Diliman Parangal para sa programang pang-ekstensiyon in the non-degree granting unit category held on 17 May 2016 at the Malcolm Hall, UP College of Law.
In awarding the online community, the Search Committee headed by Dr. Fidel R. Nemenzo, Vice-Chancellor for Research and Development, recognized UP NISMED's excellent use of technology in bringing to teachers in and out of the country much needed help and effective strategies in teaching science and mathematics.
For over four years now, the online community has been carrying out its mission of leveraging technology and relationships to help teachers implement curriculum reform. It has become now, in effect, the logical go-to site not only for teachers who look for K to 12 resources but also for teachers who want to share their K to 12 resources; not only for teachers who seek help in implementing the learner materials but also for teachers who wrote the learner materials themselves.
The online community has nurtured through the years professional relationships among its members. This is key in transforming the virtual platform into a veritable forum in which members engage in conversations with one another – conversations which take shape on wide-ranging issues like curriculum reform, on immediate concerns such as how to go about an activity in the learner material, and on just about anything that affects teachers and their teaching of science and mathematics.
The KaSaMa Team (Ms. Celia R. Balbin (2nd from left), Mr. Michael Anthony B. Mantala, Mr. John Alex M. Reyroso, and Ms. Ma. Dulcelina O. Sebastian (2nd from right) is joined by Dr. Soledad A. Ulep, UP NISMED Director (3rd from right), Dr. Fidel R. Nemenzo, Vice-Chancellor for Research and Development (extreme left), and Chancellor Michael L. Tan, (extreme right).
Previous to the awarding ceremonies, an extension colloquium featuring presentations of finalists to the Parangal was held on 29 April 2016 at the College of Mass Communication. During the colloquium, Ms. Celia R. Balbin, the program leader, presented to the UP Diliman community, the contributions of the online community to science and mathematics teachers. The other program team members include Mr. John Alex M. Reyroso, Mr. Michael Anthony B. Mantala, Ms. Ma. Dulcelina O. Sebastian, and Dr. Monalisa T. Sasing. Two other programs of the Sentro ng Wikang Filipino headed by Dr. Rommel B. Rodriguez made up the list of finalists for the non-degree granting unit category that presented in the colloquium.
UP NISMED Shares Lesson Study in BEST Workshops
The Teacher Education component of the Basic Education Sector Transformation Program (BEST), a collaborative effort of the Governments of the Philippines and Australia to improve the quality of education outcomes and increase access to quality education services, organized training and development planning workshops in Cebu on 3 February 2016, Iloilo on 2 March 2016, and Tacloban on 13 March 2016 for Regions 7, 6, and 8, respectively. UP NISMED Director, Dr. Soledad A. Ulep and Deputy Director for Research and Extension, Dr. Maria Helen D. Catalan were invited by BEST to orient regional and division supervisors of the Department of Education (DepEd) on lesson study. They explained how this professional development (PD) model can work in schools and help improve teacher competence and student performance. A video on the lesson study process was presented. Videos of UP NISMED's partner schools as they conduct lesson study were also shown to the workshop participants.
During the open forum, the DepEd supervisors expressed their interest in lesson study as one of the PD models that they want to include in their annual teacher development plan.
Lesson study is a PD model that teachers engage in to systematically examine and improve their practice. In this process, teachers work collaboratively to plan, teach, observe, critique, and improve lessons.
Dr. Soledad A. Ulep, UP NISMED Director, talks on how lesson studycan work in schools and improve teacher competence.
In its role in making science accessible to the public, UP NISMED regularly conducts stargazing sessions since 1991 with its acquisition of telescopes. For 2016, a total of nine requests from different schools, all the way from Bataan to nearby schools, were received by the Institute. Over 500 students participated in the sessions.
The students, who were accompanied by their teachers and at times by their parents, were so much awed by the sight of several celestial objects on a moonless night. The students were able to observe the Moon, Jupiter, Saturn, Mars, a number of well-known stars, a nebulae and a galaxy to boot.
The High School Earth and Environmental Science Group regularly conducts overnight sky watching activities during the months of December, January, February, and sometimes March, and when there are special requests during professional development programs for teachers.
[ Read More ]