UP NISMED serves as the research and development arm of the government in science and mathematics at the basic and teacher education levels. 
UP NISMED develops research-based curriculum materials for teachers and students at the basic and teacher education levels.
UP NISMED offers various training courses for science and mathematics teachers and instructional leaders.
In its role in making science accessible to the public, UP NISMED conducts public service initiatives such as training caravans, sky watching activities, public lectures, and open-labs.
With the establishment of the Science Teacher Training Center, a Japanese Grant Aid, the Institute has acquired modern facilities for its curriculum development, training, research, and extension programs.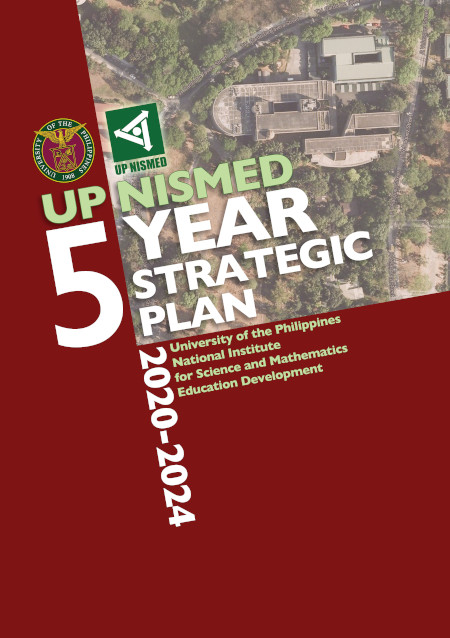 GOAL 1  CONTRIBUTE TO SCIENCE AND MATHEMATICS EDUCATION DEVELOPMENT
A. Knowledge Creation
Strategic Initiative 1: Increase research projects
Strategic Initiative 2: Intensify research dissemination and utilization
Strategic Initiative 3: Intensify research collaboration with other institutions
Strategic Initiative 4: Strengthen the capabilities of staff in developing science and mathematics education materials
Strategic Initiative 5: Develop and publish research-informed science and mathematics teaching and learning materials
Strategic Initiative 6: Provide dynamic and research-informed professional development programs
B. Public Service
Strategic Initiative 7: Enhance public service and community engagement
GOAL 2  OPTIMIZE USE OF RESOURCES
Strategic Initiative 8: Improve management information system
Strategic Initiative 9: Institute policies that have positive environmental impact
GOAL 3  ENHANCE STAFF COMPETENCE AND WELFARE
Strategic Initiative 10: Strengthen staff development programs
Strategic Initiative 11: Promote good health and well-being
ABOUT NISMED
Vision
To be the center of research and innovation in science and mathematics education in the Asia-Pacific region at the basic and teacher education levels.
The National Institute for Science and Mathematics Education Development is a research unit and an extension arm of the University of the Philippines attached to the College of Education whose goal is to raise the level of teaching and learning of science and mathematics in the Philippine educational system.
Mission
To conduct research in science and mathematics education
To develop curriculum materials and recommend standards for science and mathematics education
To develop and implement programs for teachers and teacher educators in science and mathematics
To provide inputs to policy formulation in science and mathematics education
To promote the development of a science culture in the country
To serve the public through various extension programs